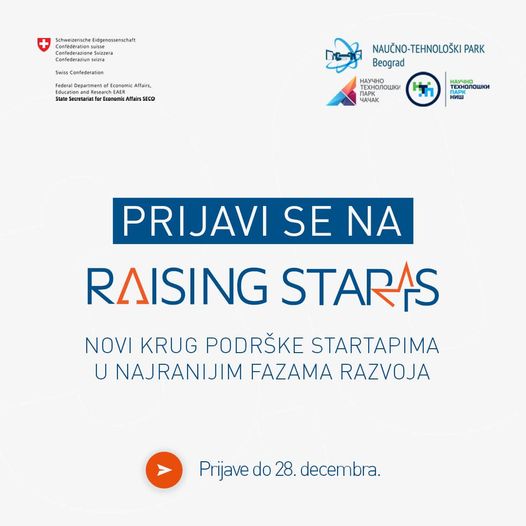 Teams and startup companies, developing innovation products and services, can apply to the new public advertisement for Raising Starts, the first program in Serbia which brings to start up,  in the earliest phases of development, expert and financial support for the accelerated development of the innovative idea.
If your team works on the development of the innovative idea and you need support for the development of prototypes or product which can be tested, as well as for the direction towards  steps to be followed leading to the marketing strategy, apply for the program Raising Starts. Along with the training for the development of business and mentors, startups shall have at their disposal up to 20,000 CHF that need not be returned.
Apply and secure expert and financial support for your startup, prepare for further investments and global growth! Applications may be filed till December 28, 2022 at the official page of the program at the following link.
Program is administered by the Science Technology Park Belgrade with the support of the Government of Switzerland in cooperation with the Science Technology Park Niš, Science Technology Park Čačak and Startup Centre Čačak.