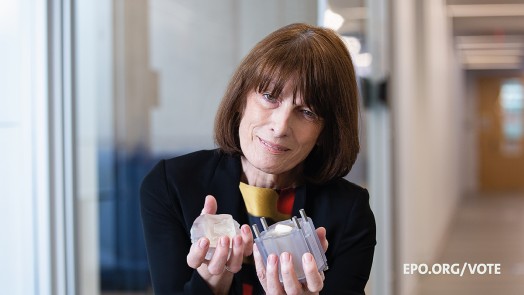 Serbian-American scientist Gordana Vunjak-Novakovic is the nominee for European Patent Office (EPO) prize for life's work in biomedical engineering. Vunjak-Novakovic's remarkable contribution to the field includes designing a novel technique, which uses a bioreactor to mimic the environmental conditions of the body to grow anatomically precise tissue replacements from a patient's cells. She is one of the most highly cited engineers in the world and her life's work in regenerative medicine has provided life-changing opportunities to replace patients' worn-out or diseased tissue and organs. The winners of the 2021 edition of the EPO's annual innovation prize will be announced at a ceremony starting at 19:00 CEST on 17 June which has this year been reimagined as a digital event for a global audience. Online voting is possible at following LINK .
"Over her lifetime, Gordana Vunjak-Novakovic has made a major contribution to tissue engineering, one of the most promising ways to prolong the human lifespan and improve quality of life," said EPO president António Campinos, announcing the 2021 EPO Award finalists. "Her scientific innovation, entrepreneurial mindset and patented inventions offer the prospect of safer rehabilitative medicine in musculoskeletal, heart and lung conditions, welcoming a new era in regenerative medicine."
In 2016, she was granted a European patent for the bone regeneration method she developed. She says patents have been crucial to the commercial translation of her research. "If we see we have a technology that is patentable – meaning something non-obvious which could make a major difference in some area of science, engineering or medicine," she says, "then we would always file a provisional patent application before we talk about the finding at scientific meetings or publish a paper about it."
With more than 53 400 citations and more than 420 journal articles, Vunjak-Novakovic is today among the most highly cited engineers in the world and has received numerous awards and recognitions throughout her career. In 2007, she became the first woman engineer to give a Director's Lecture at the National Institutes of Health, and the following year she was inducted into the Women in Technology International Hall of Fame.
Along with EpiBone, which currently has 20 employees and has attracted more than EUR 9.9 million in funding, Vunjak-Novakovic has co-founded three other companies. These include TARA Biosystems, which engineers heart-like tissue for use in drug screening; Xylyx Bio, which manufactures tissue-specific substrates to support cell growth; and Immplacate Health, which is using mesenchymal stem cells to suppress various autoimmune and inflammatory disorders. She is currently investigating whether their technology could repair lungs damaged by COVID-19 and testing a new treatment based on inhalation therapy, where the active component of the medicine is a molecule secreted by the stem cells.
Along with her entrepreneurship and scientific excellence, Vunjak-Novakovic has also shown an impressive commitment to support colleagues and nurture a new generation of researchers, having trained over 150 junior faculty, clinical fellows, post-doctoral students, and medical and graduate students, many of whom are now either at the faculties across the world or executives in the biotech industry. She considers her role as a mentor as among the most satisfying contributions of her career: "Mentoring is the best and most important component of what we do in academia. The future of engineering and medicine rests on young talent engaged in scientific research," she says.
Vunjak-Novakovic is named in many patents, including EP2408401 and EP1112348, granted in 2016 and 2005 respectively, which form the basis for her nomination as a finalist of the European Inventor Award 2021.
View the video and photo material for Gordana Vunjak-Novakovic
About the inventor
Serbian-American biomedical engineer Gordana Vunjak-Novakovic was born in Belgrade, Serbia, where she earned her PhD in chemical engineering from the University of Belgrade and learned to perform research activities. Currently, residing in New York, USA, she is University Professor, the highest academic rank at Columbia University, and the first engineer to ever receive this distinction. She is also the Mikati Foundation's Professor of Biomedical Engineering and Medical Sciences, Professor of Dental Medicine and Director of the Laboratory for Stem Cells and Tissue Engineering at Columbia University, New York. In 2008 Vunjak-Novakovic was inducted into the Women in Technology International Hall of Fame and has received numerous awards, including the Pritzker Award of the Biomedical Engineering Society, and Shu Chien Award of the American Institute of Chemical Engineers. In 2020, she was decorated with the Order of the Star of Karađorđe, Serbia's highest honour. In 2021, she received the Pierre Galletti Award, the highest honour that the American Institute for Medical and Biological Engineering bestows on an individual. She has been elected to the Academia Europaea, Serbian Academy of Arts and Sciences, National Academy of Engineering, National Academy of Medicine, National Academy of Inventors, and the American Academy of Arts and Sciences.
More about finalists in other categories and about the event follow the link of European Patent Office https://www.epo.org/ .