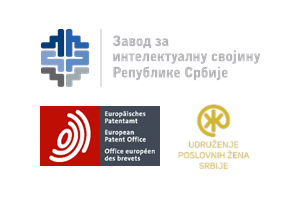 Intellectual Property Office of the Republic of Serbia and the European Patent Office, with the support of the Association of Business Women of Serbia, organize the Conference "Challenges of Protecting Her Innovation – Together Towards Success" that will be held on May 8 2023, at Belgrade's Hotel "Moskva".
The goal of the conference is to support women in science and innovation, especially since this year's World Intellectual Property Day, celebrated on April 26, is dedicated to women under the slogan: "Women and IP: Accelerating innovation and creativity".
During the Conference participants will have the opportunity to learn about current challenges, achievements and plans for the future, on the path to improve the position of women in innovative activities and entrepreneurship. Renowned experts, entrepreneurs and faculty professors from the country and abroad, will help us through their presentations to gain a better insight into how important innovation protection is for the economy of a country.
You can view the Agenda here.
We are pleased to invite you to join us and take part in the conference via the ZOOM platform, by registering at the following link:
https://us06web.zoom.us/meeting/register/tZAkf-yorTwiHtVAtJtSFmJ-jZzw4n1PeJBZ