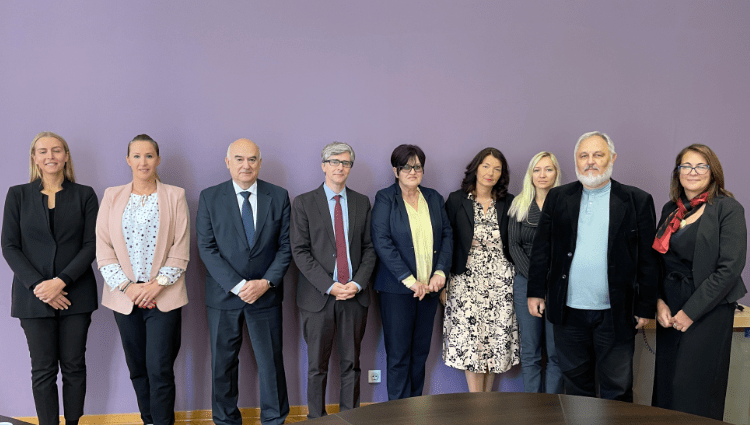 In the Intellectual Property Office of the Republic of Serbia, from October 3-6, 2022, the delegation of the Intellectual Property Institute of Bosnia and Herzegovina, consisting of Director Josip Merdžo, Deputy Director Ljubica Kozić and five employees from the Institute engaged in performing tasks concerning grant of various industrial property rights, paid a study visit.
The aim of the visit was the exchange and transfer of experience regarding the services offered by the Intellectual Property Office. On the second and third day of the visit, during the meeting on the management level of these two institutions, the Director of the Serbian Office, Mr. Vladimir Marić and other heads of the organization units discussed the competences of the Office, services of the Education and Information Center as well as manners of sustaining network with partner institutions, functioning of the Coordination Body, copyright and surveillance over the collective organizations for the administration of copyright.
Parallel with the meetings, in the course of the four days, the colleagues from the Institute were given the opportunity to observe different tasks in the field of patents, trademarks and industrial design; they were also trained to perform the services of the IP Diagnosis starting from the preparation to the very realization of the service, and they visited as well various organization units in the Office where they were demonstrated tasks in the procedures for the grant of industrial property rights.
They also benefited from the experience concerning the manners of communication with the institutions for the support of industry, with small and medium enterprises, universities and other institutions chosen as targets for the activities of education and information. Three representatives of the Institute visited, along with the employees from the IPORS, two companies with the aim of conducting training for the performance of the IP Diagnosis services.