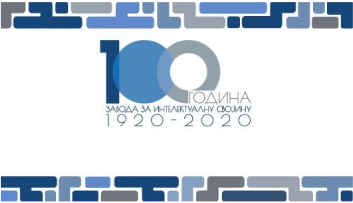 With great pleasure, we invite you to join us in the celebration of our jubilee – one hundred years of the Intellectual Property Office on Tuesday, November 17, 2020. On that occasion we organize the conference and along with the Director of the Intellectual Property Office and the representatives of the Government of the Republic of Serbia, you shall be addressed also by the Director General of the World Intellectual Property Organization – WIPO, the President of the European Patent Organisation – EPO, Executive Director of the European Union Intellectual Property Office – EUIPO and the Director of the Swiss Intellectual Property Institute.
You will have the opportunity to get to know about the history of intellectual property in Serbia and watch a short film about the Office and the monograph " One Hundred Years of the Intellectual Property Office" shall be presented as it has been printed for this occasion. In the second part of the conference, panel discussion shall be organized with the representatives of the Chamber of Commerce of the Republic of Serbia, the Fund for the Innovation Activities and the professor of the Faculty of Law in Belgrade.
Join us to watch the conference via Internet on November 17, 2020, with the beginning at 11 a.m. The broadcast shall go alive from the Club of Representatives. The link enabling the broadcasting of the celebration and the display of the agenda can be seen at 100yearsanniversary.